These Guinness World Record holders have some insanely large collections of some things you might not think anyone collects.
 Fossilized Poops
A collection of 1,277 pieces of prehistoric poop may not sound like something worth celebrating, but one man's stash of ancient feces has set a new Guinness World Record.
Umbrella Cover Sleeves
Nancy Hoffman from Peaks Island, Maine owns the largest umbrella cover collection with 730 unique items. You can visit the museum she set up on the island and sing along to official song while she plays the accordion.
Belly Button Fluff
Australian Graham Barker has been collecting his own belly button fluff since 1984, and has the largest collection of it even though it weights in at 22.1 grams.
Water Bottle Labels
Lorenzo Pescini of Italy has a collection of 8,650 different bottled water labels from 185 different countries and 1,683 different springs.
"Do Not Disturb" Hotel Signs
Since 1985, Jean-François Vernetti from Switzerland has collected 11,111 different 'Do Not Disturb' signs from hotels in 189 countries across the world.
Airline Barf Bags
Niek Vermeulen of the Netherlands has 6,290 airsick bags from 1,191 different airlines and almost 200 countries.
Miniature Chairs
Barbara Hartsfield has a collection of 3,000 miniature chairs which she has been collecting for over 10 years. She opened a museum in Georgia after setting the record in 2008.
Daleks
The 2011 official record belonging to Rob Hull (of the UK, of course) is 571 daleks, but now the collection is at 1,202 and counting. But the most surprising thing is that he isn't even a Dr. Who fan.
Dice
Kevin Cook has a set the record for his collection of 11,097 unique dice. His website shows that he had 51,000 dice as of September 2014.
Prepared Food-Related Items
Akiko Obata from Japan has 8,083 prepared food-related items. The collection includes magnets, stationery, toys, food replicas, keychains, etc.
Erasers
Petra Engels from Germany owns this huge collection of 19,571 non-duplicate erasers from 112 different countries.
Traffic Cones
David Morgan of the UK has the largest collection of traffic cones in the world. Although he only has 137 different cones, this is about two-thirds of all the types ever made.
Back Scratchers
Manfred S. Rothstein is a dermatologist from North Carolina and he has 675 back scratchers from 71 countries.
Barney Smith's Toilet Seat Art
Texan artist Barney Smith has an unusual choice of art medium: toilet seats! unusualmuseums.org
Toothbrushes
Grigori Fleicher from Russia has a collection of 1,320 different toothbrushes.
Hot sauce collection
Spice-obsessed Vic Clinco own's a jaw-dropping collection of 6,000 bottles of hot sauce. Included in his collection is a rare bottle of Blair's 16 Million Reserve, the hottest hot sauce on the planet.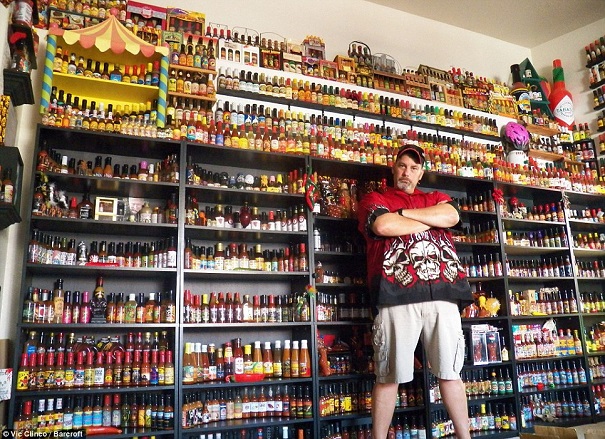 Source: Daily Mail
Save